FOUND!!! Thanks to all that kept their eyes out!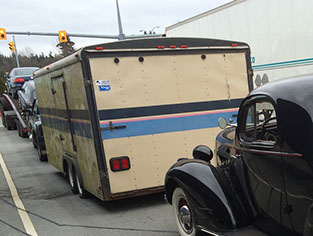 STOLEN: US Cargo 20-foot car trailer on or about January 5th from Baycrest Ave. – Coquitlam.
Hints for keeping your white wall tires bright and clean…. Hints Part 4

By John Carlson January 2018
Some helpful hints for detailing your vehicles include brightening your white walls. SOS pads work well for general cleaning, as well as for blemishes and stain removal on whitewalls. Use Simple Green as a general cleaner. To brighten the white, use either baking soda or a Mr. Clean Magic Eraser. To use Black Magic Bleche-Wite, make sure to follow the instructions on the label. To use an SOS pad, wet both the tire and pad. more>>
RM Southeby's Auctions and RM Auto Restoration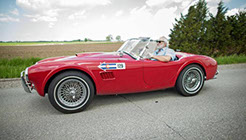 I first became of RM Auctions in Monterey California during "Car Week". I am lucky enough to be able to cover the events for the NAACC website and try to see what cars are available at the various auctions happened during car week. I am always on the lookout for cars with a Canadian connection and it is not surprising there are quite a few cars with a Canadian Connection.
more>>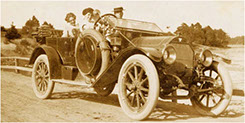 Ban the Automobile: Instrument of Death, written by Rudy Croken former NAACC PEI Director.

Here is what Greg Williams' review. | AUGUST 22, 2017
At the turn of the last century, automobiles were busy reshaping North American cities and making travel more convenient. That is, all except in one Canadian province. In the early 1900s, automobiles were banned from the roads of Prince Edward Island.
"When I first heard that, I thought it was ridiculous," says author Rudy Croken, whose book Ban the Automobile: Instrument of Death, released earlier this summer, shines a light on a little known aspect of P.E.I.'s past.
"When I was growing up, my dad told me about the ban, but I thought it might have been for a month or so," Croken says. "I had no idea (it was more than a decade-long struggle) to get cars on the road."
CENTENNIAL CARAVAN: CANADA'S COASTERS RIDE AGAIN! 2017
By: Michel Lamoureux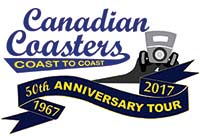 For Fraser Field of Deroche, British Columbia, the start of the 2017 Centennial Caravan is the result of much hard work and planning. The cars will gather on Vancouver Island to dip their wheels in the ocean and then haed across Canada. The NAACC will be pleased to report on the progress as many of the participants are going along for the "Ride". The president of the NAACC John Carlson and his wife Koko, along with a few others will send reposrt back regularily so you can follow thier progress.
For more info on the cruise click here>>