Subject: Alert-----Stolen Vehicle
1928 Blue Chevrolet Coupe Stolen
The car in the pictures was stolen on or about November 15, 2014 from Don Thomas's farm near Herronton (southwest of Mossleigh, AB).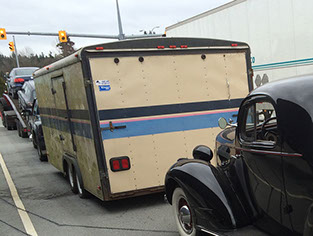 If you see the car or have information that may help with its being returned to its owner, please contact
High River RCMP
1104 - 14th Street SE High River, AB T1V 1W2
Phone: 403-652-2357
National Association of Automobile Clubs of Canada
NEWS LETTER Report #90 December, 2014
In November the NAACC 'National' Directors joined the NAACC President and Vice President in a meeting with Colby Martin of the SEMA Action Network. Colby is the Government and Public Affairs Manager for SEMA SAN.
SEMA provided the meeting space and made the necessary arrangements to accommodate the NAACC at their expense. We cannot thank them enough for their generosity.
National Association of Automobile Clubs of Canada
Newsletter Report #89—November 2014
Provincial Governments: Written submissions were presented to Provincial Governments by the NAACC asking that the month of July be declared as NAACC Automotive Heritage Month in 2014. Most Provincial Governments granted our request and issued formal declarations signed by the Premier or the Minister of Justice, Attorney General, the Lieutenant Governor or the Minister of Tourism. All Clubs were asked to submit their activities to the NAACC so they could then be highlighted on the NAACC website www.naacc.ca Many Provincial Governments have declared July 2010, 2011, 2012, 2013 & 2014 as NAACC Automotive Heritage Month.