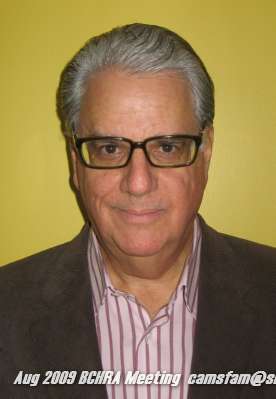 Exciting Car Story in the Making: The Fossmobile
Feb 24, 2017 | BY MICHEL LAMOUREUX
Canada's first automobile was a watchmaker's dream.
Powered by steam, the Seth Taylor shares its birthday with Canada, as it also turns 150 this year.
Read the full story here>>


JAN 12, 2017 | BY MICHEL LAMOUREUX
Befoore Enzo & F1, Gilles Villeneuve Loved Fords and raced Mustangs.
For the full story click here
Villeneuve's Ford Fondness Had Him Racing Mustangs Before Joining Enzo in F1>>
Exciting Car Story in the Making: The Fossmobile
By Michel Lamoureux
This is a big year for celebrating in Canada, starring the sesquicentennial anniversary of our birth as a nation in 1867. From sea to shining sea, or A Mari Usque Ad Mare as our motto suggests, communities, towns and cities across the land are marking the occasion in a host of creative ways. This year's July 1st Day promises to be the mother of all bashes, when candles get lit galore, fireworks ignite the sky and the Maple Leaf goes red hot!
In the spirit of who we are and who we've been as a people, our rich automotive history gets some noteworthy birthdays of its own in this joyful calendar of year-long festivities.
One such fine example is the Canadian Coasters' national tour being repeated in August of this year, exactly five decades after the group's inaugural Centennial crossing aboard some 130 antique vehicles of all marques and eras. As they've done before, the Coasters will depart from Victoria, B.C., and cover a distance of nearly 10,000 miles that includes multiple stop-overs en route to St. John's, Newfoundland, then drive back to their respective homes.
Another automotive milestone worthy of special commemoration in 2017 brings us back to the very year of Confederation, when Canada's first self-propelled vehicle was built by one Henry Seth Taylor of Stanstead, Quebec. The adventure of the Seth Taylor was told in an earlier article I published about Henry the clockmaker and his wild invention, when steam was all the rage.
And finally, there is the no less
amazing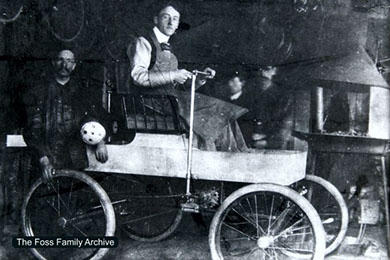 exploit of young George Foote Foss from Sherbrooke, Quebec—just miles away from Stanstead—who, exactly 120 years ago, invented in his bicycle repair shop Canada's first gasoline-fueled car, the "Fossmobile", which he drove up and down the hilly streets of Sherbrooke over a period of several years.
Fortunately, thanks to a serendipitous meeting of minds and hearts between George's descendants led by grandson Ron Foss and some visionaries operating a company called Rediscovering Canada (rediscoveringcanada.ca), this is one major chapter of Canadiana that will not be lost to time.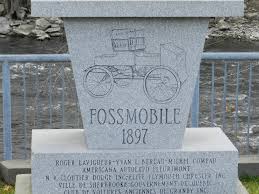 The team at Rediscovering Canada—staunch guardians and devout promoters of our national heritage one and all—is in the business of producing high-end factual documentaries showcasing extraordinary human creations from days past. Interestingly, they achieve this by reliving personally the stories they tackle while giving them physical shape in a way best described as totally hands-on.
The end result in this case will not only mean a thoughtful reconstruction of the Fossmobile from scratch, but also a three-hour TV mini-series for viewers at home and abroad to discover the full significance of this historic automotive event.
So stay tuned for more about this one-of-a-kind educational project as it comes to life during the months to come.
Happy 120th, George! We proudly salute your innovative spirit.
http://townshipsheritage.com/article/george-foote-foss-1876-1968-and-fossmobile